---
People and pets are unique.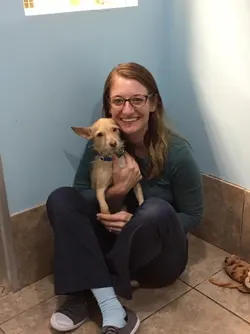 Our pets are part of us, our story, and our memories. Just like our Nelson (above with Dr. Jundt), we know each animal is unique and deserves personal and friendly care in a clean, comfortable, and uncomplicated environment.
We hope you'll find we do some things a little differently at Cobblestone Vet Care, and that's okay. We think it's unique.

Tempe and Chandler Veterinarians |
Cobblestone Veterinary Care | 480-897-1888
1721 East Warner Road Suite C3
Tempe, AZ 85284
---
Philosophy is important.
Cobblestone Veterinary Care, owned and operated by Drs. Amy Jundt and Andrew Marsh, is passionate about being your local source for veterinary care and peace of mind. We are proud to serve South Tempe, Chandler, and the surrounding areas in AZ for everything pet related.
We know one size doesn't fit all and have worked hard to create a relaxing and pleasant environment where you feel comfortable visiting, asking questions and getting involved in your pet's care. Our passion is taking the time to know you and how we may provide the best care for your pet. This individual approach best fits our practice philosophy - people and pets are unique. Integrity, respect, and old-fashioned service are values that guide our practice daily.
We live near our hospital and choose to remain a single location, owner-operated animal hospital, without national affiliation. This allows us to be personal and independent with the vision to provide a positive atmosphere for our doctors and team to become a sustainable resource for our clients and pets.
We are committed to maintaining a professional and consistent team dedicated to educating our clients in how to keep their pets healthy year round, life long. Cobblestone Veterinary Care stays on top of the latest advances in veterinary technology and above all, remembers that all pets needs to be treated with loving care at every check-up, procedure, or surgery.